AUTOVIA.cz - prodej a výroba přívěsů! Nákladní přívěsy i vozíky za auto
Kontakty - centrum přívěsů a přívěsných vozíků


The largest selection of trailers in the Czech Republic!
Search a trailer
Trailers and car trailers center Autovia Ltd.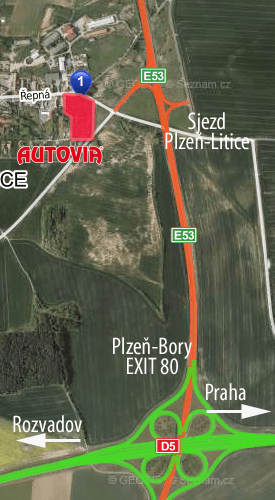 Autovia s.r.o.
Řepná 36
321 00 Plzeň – Litice

landline:
+420 377 828 103, 104
fax:
+420 377 829 096
mobile phone number:

774 720 938, 777 306 430

- prodej přívěsů
736 221 688 - servis
774 004 618 - náhradní díly, e-shop
Víkendová infolinka pro prodej přívěsů:

774 720 938

přímé kontakty na naše zaměstnance jsou níže
email:
info@autovia.cz
Opening hours:
Po - Pá 8h – 16:30h
Expedition of the trailers:
Po - Pá 8h – 16h
Expedition of the used (second hand) trailers:

Po - Pá 8h – 13h

Leasing contracts

:

Po - Pá 8h – 15h
Infolinka prodej přívěsů

:

So - Ne 9h – 19h

company ID:

26321033

tax number:

CZ26321033

Bank details:

FIO, č.ú.:
220 119 7830 / 2010
OR Krajský soud v Plzni, oddíl C, vložka 13251
Department center of trailers AUTOVIA Ltd. contacts
Business Department of trailers


The trailer technical and service department

Sales of spare parts for trailers

The department of financial Service
How to get to our premises?
Jak se k nám dostanete? Jednoduše, připravili jsme pro Vás mapy nejčastěji používaných příjezdů k nám.
N 49° 41' 53" E 13° 21' 39"
From Prague: you will drive along the D5 motorway from Prague, "WARNING" you will not take the exit Pilsen, Plzen - Ejpovice EXIT 67, but you will continue along the D5 motorway, after 8 km you will pass the exit Plzen - Cernice EXIT 75 and after another 2km you will drive through the highway 'TUNNEL "Valík, 1.5 km long after that you will take the D5 motorway exit" Plzen-Bory "EXIT 80. You will continue driving along four-lane highway E53 direction Plzen - Bory after 1 km you will take the exit Pilsen-Litice. In Litice we are the first company on the left hand side. (Řepná Street 36)

Příjezd od Rozvadova: pojedete po dálnici D5 od Rozvadova "POZOR" nebudete sjíždět do Plzně, sjezd Plzeň-západ - Borská pole EXIT 89, ale budete pokračovat po dálnici D5, po 6km vyjedete z dálnice D5 na sjezdu "Plzeň - Bory" EXIT 80. Najedete na čtyřproudovou silnici E53 směr Plzeň - Bory a po 1km odbočíte na sjezdu Plzeň-Litice. Po příjezdu do Litic jsme první firma po levé straně.(Řepná ulice 36)

Přejeme Vám šťastnou cestu.